Happening Here
A sense of community, cultivated by locals.
It's a happening place, with just the right amount of activity. There's always something going on in and around the District, from events and tastings, to festivals and meetups.

Procrastinator's Vision Board Project
January 11 @ 1:00 pm

-

3:00 pm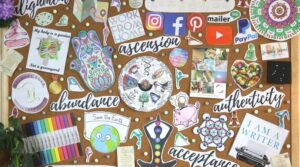 Everyone is rushing to create their resolutions before the end of the year. Not us! Join us as we follow the creative path of visualization and setting intentions for the year ahead, just a little late.
If you need some motivation or a creative way to stay focused on your goals for 2020, come on down for this inspiring workshop where we will create our own vision boards to help illuminate our paths to happiness and balance!
First things first; What is a Vision Board? It's a visual representation of your goals, dreams, and intentions, displayed where you will see it frequently to remind you of your awesome life vision.
What does the workshop include?
* Guided slow flow yoga with Frannie to ground and inspire * Basic supplies for your vision board
* Guidance and ideas for creating your vision board by Brandi Godbee-Whiting, LHMC.
* Light snacks, beverages
What should you bring?
Come with goals, intentions, aspirations and dreams for 2019. What do you want to accomplish? Who do you want to be? It could be a theme that you would like to focus on for the year or an area in your life that could use a kick-start. Wellness, Relationships, Spirituality, Career…your roadmap for the year ahead. We also want you to think about is what's in the way/what to let go of, aka, roadblocks for these goals. There will also be a few pre-workshop chances to journal & prompt thoughts to prepare us.
You are welcome to bring any inspirational images you may have that speak to you. If you have any magazines you would like to recycle, stickers, pictures bring those too; however, there will also be plenty of clipping resources available.
Manifest yourself into a masterpiece!
Cost: $25 in advance; $30 day of