Happening Here
A sense of community, cultivated by locals.
It's a happening place, with just the right amount of activity. There's always something going on in and around the District, from events and tastings, to festivals and meetups.

Awakening Worthiness:Body & Soul Positive Workshop w/ Yogi Yuli
January 25 @ 1:00 pm

-

5:00 pm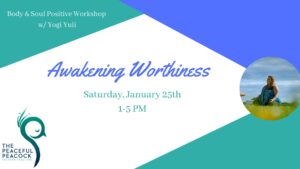 ,
WORKSHOP DESCRIPTION: Awakening Worthiness:
Our self worth is the cornerstone for all of the decisions we make. From the jobs and relationships, we choose to ultimately how we treat our bodies. This 4-hour workshop will take you on a journey to awaken the worthiness within; incorporating breath-work, movement, Himalayan kriya, meditation and self-reflection. Join us for body movement practices and proven techniques for transcending limiting beliefs so that you can step into a more mindful and compassionate way of being.
Yoga is more than just movement and provides the space and time to go inward and listen to the body, tapping into the soul. As we breathe and move together, we will (re)awaken our WORTH. Re-energize and stabilizing the physical body, allowing these practices to culminate into moments of open consciousness, expanded awareness and clear seeing. This class will help you find the full expression of Yoga in YOUR body and rediscover that sense of being limitless: grounded, open and free – with love and acceptance of the body and the self.
What are Himalayan Kriyas? Kriyas combine repetitive movements through mudras (hand gestures), mantras, and pranayama (breath-work) to create a moving meditation, that helps facilitate expansion and transcendence. The Kriya yoga practice generates energy, working to heal on a cellular level. It allows one to access their inner wisdom and awaken to their highest self. These sacred techniques originate from the foothills of the Himalayan Mountains at the Sattva Yoga Academy, led by spiritual master Anand Mehrotra.
Timeline for Our Workshop
1-2:30 PM: Sattva Kriya Flow
2:30-3:45 PM: Journaling, Sharing, Reflections
3:45-5 PM: Yin Yoga: Deep Stretch & Meditation
Instructor BIO: Yogi Yuli: Yuli is a traveling, private yoga teacher who supports women on their journey of radical self-love and body acceptance through yoga, meditation, and empowerment practices. After answering a deep calling to have a yoga practice, she found a local studio and began her journey. As her practice evolved, she discovered that yoga was a gateway to self-love, compassion and fulfillment. Six months after her first yoga class, she took Yoga teacher training and had a transcendent trip to India. She is certified with Yoga Alliance and is a Community Advocate for the Yoga and Body Image Coalition. She is committed to breaking stigmas so that women of all sizes can feel confident in their skin and embrace movement into their lives. She believes Yoga is an experience of Body, Mind, and Spirit and integrates them throughout her classes; supporting others in creating space to Expand and Transcend and fully step into a more blissful life.
Saturday, January 25 – 1-5 PM
$44 per person
Terms and Conditions: Tickets are non-refundable, non-transferable. Please register yourself and if you are buying multiple spots, email us at info@peacefulpeacockorlando.com
Please arrive 30-15 minutes ahead of time and allot plenty of time to find parking. Parking is available in our front lot, side lot, and down Jessamine Avenue.