Happening Here
A sense of community, cultivated by locals.
It's a happening place, with just the right amount of activity. There's always something going on in and around the District, from events and tastings, to festivals and meetups.

Self Care Through Yoga- Yoga For Back Pain
May 11 @ 1:00 pm

-

3:00 pm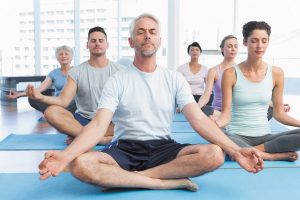 Join Joanna Timm (LMT) and Ryan Bean (RYT) for this first in the invigorating series workshop addressing "Self Care Through Yoga". The first workshop will focus on Yoga for Back Pain. This two hour yoga therapy workshop is focused on strengthening the spine, back and legs to help prevent back pain and injuries. Gentle stretches help to relieve discomfort and poses are lead in a mindful and educational manner, focusing on the anatomy of the body in order to receive the most benefit from each asana. Come learn simple and effective poses that, with practice, can aid in your journey to decrease back pain and gain mobility.
Self-care is the ability of individuals, families, and communities to promote health, prevent disease, and maintain health and to cope with illness and disability with or without the support of a health-care provider
Yoga has been used for thousands of years to promote health and prevent disease, and many people with back problems have found yoga to provide several benefits, including:
Relieving pain
Increasing strength and flexibility
Teaching relaxation and acceptance
Tickets are non-refundable. PLEASE PURCHASE IN ADVANCE as supplies must be purchased. By purchasing a spot, you are agreeing to our purchase terms and conditions. Please make every effort to attend. We are holding space and materials for you. Tickets are NON-REFUNDABLE. YOU MUST BUY ONE under an account for each person as this event requires waivers and space.
Talk to your doctor first about whether it's okay to begin a yoga program if you suffer from low back pain. Once you have the green light, you can protect your back by telling your yoga instructor beforehand about specific pain and limitations. He or she can give you modifications that may help decrease your pain level in the pose, or help guide you through a pose to ensure you do it correctly for your body, limiting the chance for additional discomfort. Some poses, no matter how many modifications, may not be right for you, and those are completely optional to your practice. Often a similar pose that is safer or more comfortable can be swapped in.