Happening Here
A sense of community, cultivated by locals.
It's a happening place, with just the right amount of activity. There's always something going on in and around the District, from events and tastings, to festivals and meetups.

First Anniversary Yoga Mixer Party
March 23 @ 5:00 pm

-

8:00 pm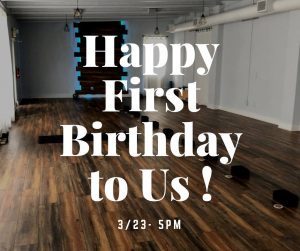 The Peaceful Peacock Is Turning 1!
It has been a year-long, inspiring journey and we are so grateful to provide a space where we can all share this vital practice of yoga. As a way of thanking you for your commitment and dedication to The Peaceful Peacock, please come together on 3/23 for an evening of yoga, champagne toasts, snacks, memories & a celebration of our first anniversary.
We will kick off the night with a 60-minute gentle Hatha class taught by LuLu Rivera-Freeman. Followed by a wine & cheese reception mix and mingle. All your flock favorite characters will be on hand.
This night will be the perfect blend of movement and mellowness.
5pm-6pm Yoga Class
6pm-8pm Cocktails & Cheers
Cost of class is $10 and has 35 spots.
Fine Print
Class tickets are non-refundable, non-transferable, non-scalpable. Please make sure everyone in your party is paid under their own Mindbody account. We are not responsible for multiple bookings under one name and then not having a spot as everyone must have a waiver with Mindbody. Alcoholic beverage consumption requires you be 21 and over.