Happening Here
A sense of community, cultivated by locals.
It's a happening place, with just the right amount of activity. There's always something going on in and around the District, from events and tastings, to festivals and meetups.

February Book Club – "Outer Order, Inner Calm"
February 21 @ 7:00 pm

-

9:00 pm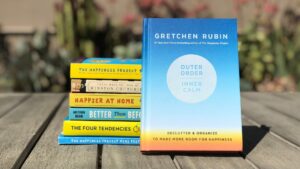 If you LOVE reading, we want you! The Peaceful Peacock Book Club is a group for those interested in reading (or re-reading!) a broad range of books relevant to our lives, our yoga practice and potentially exploring themes related to yoga. The intention of our book club is to create a stronger sense of community at The Peaceful Peacock studio and to broaden our familiarity with our flock & understanding of yoga beyond the classes. Think of this book club as a yoga-book-mixer.
We won't be doing yoga but we will be sitting around on our mats, enjoying discussion, connecting themes, and connecting ourselves with great company. Snacks and beverages provided!
Cost per session is $15 and you can purchase the book yourself in whatever format you prefer.
We'll be discussing "Outer Order, Inner Calm" by Gretchen Rubin.
For this event, we'll also have a clutter clean out swap! Bring 1-5 household items in good condition that you would like to purge and exchange with other flock members. Any items not claimed at the end of the swap will be donated.
Our Peaceful Peacock Book Club is lead by Lizzie Fredrick, a self-proclaimed snack queen, avid reader, bibliophile, Hourglass District Resident, dog lover and Peacock teacher. For book-club questions or suggestions ask to be added to the FB group or please email lizzie@peacefulpeacockorlando.com